What is Paracord? 
Paracord (parachute cord) is a lightweight nylon rope originally used in the suspension lines of US parachutes during World War II. Once in the field, paratroopers found this cord useful for many other tasks. This versatile cord is now used as a general purpose utility cord by both military personnel and civilians. The braided sheath comes in a variety of colors and its 7 inner strands provide a multitude of uses. Typical uses include attaching equipment to harnesses, as strapping to avoid losing small or important items, tying items to vehicle racks, securing nets to trees or vehicles, tourniquets, etc.
The inner strands of the core can also be removed when finer string is needed. Uses include sewing thread to repair gear, fishing line, tripwire, nets, traps, and other emergency and/or survival situations. The nylon sheath is often used alone (the strands in the core removed) when a thinner or less elastic cord is needed, such as when used as a boot lace. The ends of the cord can easily be melted to prevent fraying.
Paracord Bracelets 
In addition to purely utility uses, paracord can be used to fashion knotted or braided bracelets, lanyards, keychains, belts, and other decorative items. Paracord survival bracelets are worn around the world. They are a great way to carry around a fair amount of paracord with you in case of any emergency situation. Although the paracord bracelet is made to hold securely on your wrist while you are wearing it, it can be unraveled and the paracord can help you in a number of the afore-mentioned scenarios. Even if not used for emergency/survival purposes, paracord bracelets are not simply a fashion statement–
Emergency Uses:
As a snare trap
Fishing line
Fishing net
Shelter
Shoe lace
Source: http://www.operationgratitude.com/wp-content/uploads/2011/04/HowtoMakeaParacordSurvivalBracelet1.pdf
Material: Parachute Cord
Length: 6ft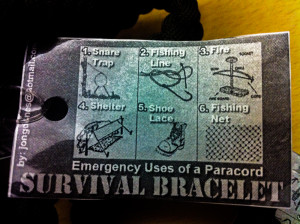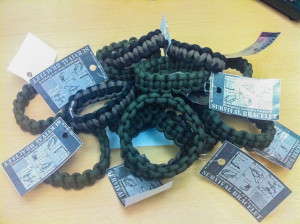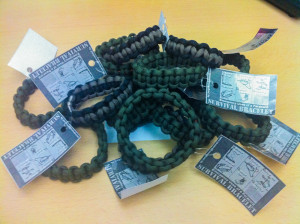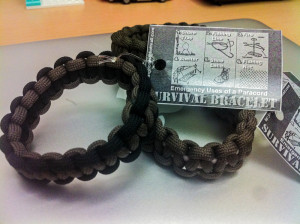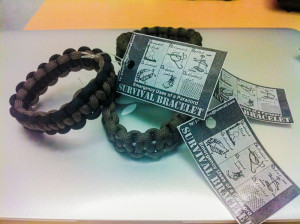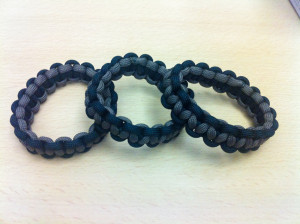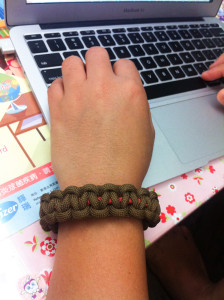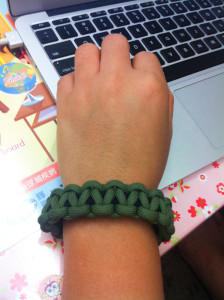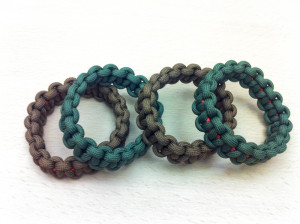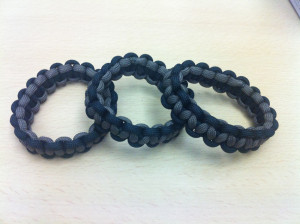 Php 170.